ZIPLINE AND CHALLENGE PARK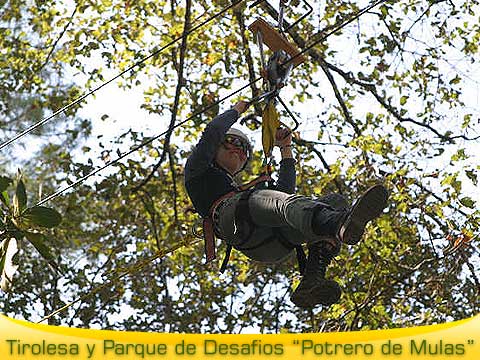 Concept developed in the Tyrol, region on the border between Italy and Austria where climbers needed to cross from one side to another in an ice crevice or a river. 

The system is based on the concept of fastening a mountaineering rope from one point to the next with the intention of crossing using their arms and the movement of the legs.
The modern concept is applied to adventure sports and consists of one or two steel cables held between two points, with different height between them, to obtain a slope of several degrees.
The person is fastened to the system by means of an adjustable waist harness, a carabiner with a thread, a tubular belt that joins together with a pulley that rolls on the cable. The distance on this zip line, from the starting point to the landing platform is 86 meters and the height at the highest point of 12 meters, the travel time is approximately 9 seconds with an average speed of 35 km / h . 

· This activity consists of throwing people through climbing ropes or using steel cables on a strong base. This can be squeezed into a place with enough height to allow the pulleys to slide by gravity, in a place where the forest is crossed or on a light ravine or stream. The anchors of the cables can be strong trees existing on the site or bases made exprofeso. To prevent damage to the trees, the anchors can be protected with rubber or other resistant material that is placed between the tree and the cables.
The ideal site is the one that appears in the interior of the La Bulera river gorge. It can be equipped with a suspension bridge that serves as a launch site for the zip line and for the observation of fauna and flora in the vegetation canopy.
The operation, can be a complementary activity to the ecological camps, as an activity more than the "extreme route" or as a service for occasional field day visitors.
CHALLENGE PARK
Located in the same area of ​​the camp of "La Lagartija Azul" next to the "Tirolesa" , and consists of 4 games where you will prove your ability and your balance.

Designed to develop creativity, confidence and decision making of visitors, children and adults, through personal challenge and teamwork. 

TRAVEL: 

Tapirulan: 
It must be crossed from one side to the other by stepping over the trunks and leaning on the cables. 

High voltage: 
Cross it by leaning only on the top cable holding to get to the other end. 

Tibetan Bridge: 
the passage through the fixed part begins and ends in the mobile, only with the support of the security line. 

Milking machine: 
You must cross from one side to the other with the help of the ropes that hang at different levels. 


For your safety: in these activities it is mandatory the use of protective equipment (included in the rent) and the company of a guide.